JOB VACANCY –FINANCE OFFICER ASSISTANT & EXECUTIVE ASSISTANT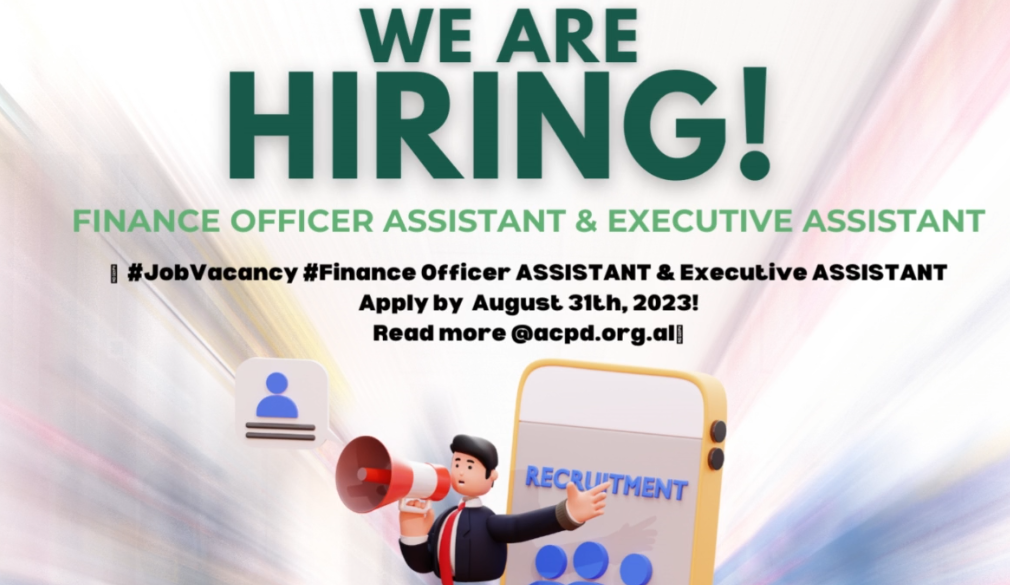 Position Title: Finance Officer Assistant & Executive Assistant
Organization: Albanian Center for Population and Development (ACPD)
Location: Tirana, Albania
Employment type: Full–time position
Background: The Albanian Center for Population and Development (ACPD) is looking for Finance Officer Assistant & Executive Assistant with excellent administrative and analytical financial skills to join our team. He/she will be responsible for helping the finance manager with administrative and financial tasks, including invoicing, budget drafting, issuing purchase orders, and implementing and managing procurement processes. Furthermore, he/she will directly support the Executive Director with the scheduling and administration of projects.
The Assistant Finance Officer & Executive Director Assistant should carry out the responsibilities described below independently, with minimum supervision, but also in the context of a professional project team. She/He will work with and under close supervision of the Finance Manager and in close collaboration with other project team members, and an external pool of experts engaged by the project.
Main duties and responsibilities
Managing the executive director's schedules
Acting as the first point of contact by introducing the organization in an appropriate manner
Correspondence processing and management
Management of both forms of the filing system, paper and electronic
Assisting the executive director with planning meetings and events
Analysis of relevant data and creation of reports for executive director review
Managing travel and logistics details for staff
Preparation of event summaries for the executive director
Cooperation with board members to organize meetings and prepare the necessary materials
Performing office tasks such as answering the phone, filling out data
Searching for information and storing papers and documents
Welcoming guests and visitors and providing advance information
Collection and analysis of data for drafting correct reports
Assist the Executive in preparing and delivering presentations
Monitoring of tasks delegated by executives and ensuring the realization of each project
Designing backup activities to preserve information
Keeping and saving minutes of meetings
Maintenance of cash register and accounts records
Making payments, including payment invoices
Receiving cash, including the recipient's bills
Experience and Qualifications:
Master's degree in Economic sciences, Social sciences, or other related fields;
Previous working experience with NGOs, financial-related Albanian legal framework (would be an advantage);
Previous experience in an NGO with proven leadership and organizational skills;
Excellent PC user skills in Microsoft Office package, particularly in Excel (formulas, pivot tables, etc.);
Good organizational and analytical skills including attention to detail and multi-tasking skills;
Very good interpersonal skills and abilities to develop and maintain effective working relationships with other members of the staff (teamwork) and third parties;
Excellent command of spoken and written English and Albanian;
Proven experience tracking, prioritizing, and balancing a diverse set of responsibilities with competing deadlines;
Ability to work under pressure and meet tight deadlines;
Skilled in office organization and bookkeeping;
Effective with file organization;
The ability to electronically store data, manage it effectively and reuse it when required;
Ability to change meetings when necessary and timely inform the respective parties about the change;
Able to maintain the executive director's calendar and delegate matters as per availability and instructions.
Duration: Long-term project, with potential for renewal of the contract, based on performance.
Application procedure:
Interested candidates are requested to apply, by submitting:
1) a cover letter indicating your interest and motivation,
2) a relevant CV (EU format) and copies of documents supporting academic and/or professional experience,
3) Two reference letters from your previous employee.
Please, feel free to include any other documents that you think are relevant.
Only candidates that submit all the above-mentioned documents will be considered for review.
Please send your full application package with the heading "Application for Project Coordinator" to info@acpd.org.al, no later than August 31st, 2023.
Albanian Center for Population and Development will contact only those applicants who will be invited for an interview. Before applying, we encourage applicants to consult Albanian Center for Population and Development's official webpage (acpd.org.al) in order to familiarize themselves with our work.
Albanian Center for Population and Development embraces diversity in its hiring, welcoming individuals of all religions, ethnicity, gender, and orientation to apply.