JOB VACANCY – PROJECT COORDINATOR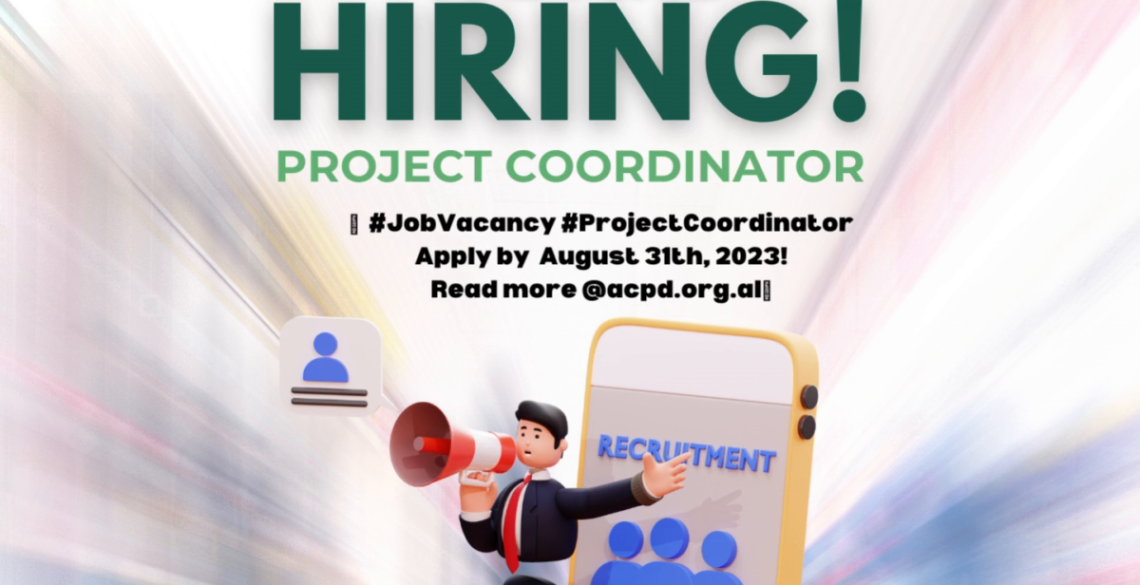 Position Title: Project Coordinator
Organization: Albanian Center for Population and Development (ACPD)
Location: Tirana, Albania
Employment type: Full–time position
Background: The Albanian Center for Population and Development (ACPD) is seeking a Project Coordinator, who will be responsible for the coordination of different projects of ACPD.
The Project Coordinator will be responsible for key aspects of the project's implementation. She/He will be responsible for the coordination of project activities, resources, equipment/tools, and information to ensure the effectiveness of the project, will contribute to research, and capacity-building activities, in line with the project needs, and her/his field of expertise and capacities. She/He will actively participate in personal professional development activities, in discussions and learning from others' experiences, and will contribute to other aspects of project implementation, as appropriate.
The Project Coordinator should carry out the responsibilities described below independently, with minimum supervision, but also in the context of a professional project team. She/He will work with and under close supervision of the Project Manager and in close collaboration with other project team members, and an external pool of experts engaged by the project.
Main duties and responsibilities
Coordinate project activities ensuring they are implemented according to the action plan and project contract timelines, scope, and budget;
Prepare a monthly plan of activities and follow up with their implementation;
Conduct adequate planning, implementation, coordination, and monitoring of the project assigned, prepare periodic reports indicating progress toward outputs and expected results;
Plan, organize, and coordinate logistics for the organization of project activities, as part of the project team;
Coordinate and work with other project teams and third parties (service providers, experts, beneficiaries) for the effective implementation of project activities;
Work with Communication Officer to coordinate the project's promotion activities, and to develop public communication products (i.e. posts, briefings, fact sheets, etc.) that promote the project in social media, not only;
Assist the relevant project team members in designing ToRs for external experts, participate in capacity-building activities, and monitor the performance of contracted experts;
Maintain regular contacts and cultivate professional partnerships in relation to project management with key stakeholders relevant to the project' implementation.
Create and maintain comprehensive project documentation, plans, and reports;
Identify and assess any issues or risks that may arise with the project's implementation and report them to the Project Manager;
Design and participate in activities aiming to promote the project all over the country;
Work collaboratively with the management team to maximize the effectiveness and efficiency of the project.
Experience and Qualifications:
Master's degree in Public Health, Social sciences, Economic sciences, or other related fields;
Previous working experience with NGOs (would be an advantage);
Very good interpersonal skills and abilities to develop and maintain effective working relationships with other members of the staff (teamwork) and third parties;
Excellent command of spoken and written English and Albanian;
Adaptable and capable of thriving in fast-paced environments even under pressure;
Very good computer skills, data processing, and report writing.
Duration: Long-term project, with potential for renewal of the contract, based on performance.
Application procedure:
Interested candidates are requested to apply, by submitting:
1) a cover letter indicating your interest and motivation,
2) a relevant CV (EU format) and copies of documents supporting academic and/or professional experience,
3) Two reference letters from your previous employee.
Please, feel free to include any other documents that you think are relevant.
Only candidates that submit all the above-mentioned documents will be considered for review.
Please send your full application package with the heading "Application for Project Coordinator" to info@acpd.org.al, no later than August 31st, 2023.
Albanian Center for Population and Development will contact only those applicants who will be invited for an interview. Before applying, we encourage applicants to consult Albanian Center for Population and Development's official webpage (acpd.org.al) in order to familiarize themselves with our work.
Albanian Center for Population and Development embraces diversity in its hiring, welcoming individuals of all religions, ethnicity, gender, and orientation to apply.