ESSAY Dhuna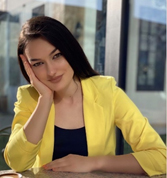 Frida Keqa
22 years Old from Tirana,
MSc, Administration of Social Services
ACPD's Volunteer
Sitting in front of reality like in front of a movie…
And since we are lazy, cowardly and unconscious, let's deal with what comes in front of us… for example with women. Let's join the crowd with comments, likes and insults. Let's try it like some patriarchal expressions such as: "woman, the apple of discord" or modern pearls "women put devils in the bottle". Let's blame women for men's bullets and let's justify the crime with manhood.
Historically, intentional injustice, girls and women have been silenced with the words "you don't know, and you can never" instead of being treated and inspired by the question "what do you think" and "you will succeed". , women are and processed as if they were naive children within an adult body, with the irrational idea that woman, by nature, was born to be led and instructed by a man. Women continue to seek permission from the men around them… permission to go out, permission to work, permission to speak, permission to know, permission to appear independent and strong. How long will women be banned, controlled, and censored from speaking out, opposing, and deciding for themselves and themselves, as long as men continue to play with history, write it, and rewrite it to the detriment of women?
Gender is a natural lottery, a moment so random and independent of human will, that it would be madness (and madness is) to turn it into a price freedom measure, a measure of value, an advantage.
More than people, unfortunately, we function as well-thought-out programs and it is offensive, unfair and unworthy of how our lives are defined by only one genital organ.
Therefore, in a place where it is claimed that people are killed with a sword, a glance, a place in the parking, for a strip of land or a GIRL, doesn't kill the word, the sight, the parking, or The girl… kills the sick manhood and ego of these individuals who in an absurd race like "I am braver than you" I have more muscles than you "or" I have more power than you " they put their lives at the end of the list.
There is nothing to be silent about! There is a lot of work to be done here, a lot of need for wrinkled eyebrows and a strong voice… otherwise history will repeat itself, the culprits and the victims !!!